Boehner calls for spending cuts as debt limit looms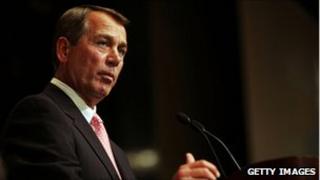 The top US Republican in Congress has warned he will oppose increasing the US government's ability to borrow funds unless the Obama administration agrees to deep spending cuts.
Republican House Speaker John Boehner also said the cuts must exceed any boost to the US borrowing limit.
The move comes less than a week before the US is set to run up against its $14.3 trillion (£8.7tn) debt limit.
President Barack Obama has said a default could shake global markets.
"We're not talking about billions here, we should be talking about cuts in trillions if we're serious about addressing America's fiscal problems," Mr Boehner said on Monday.
The finance industry is hoping Congress will sign off on a further debt limit increase to avoid a default on US debt payments.
Treasury Secretary Timothy Geithner said the US will reach its debt ceiling on 16 May, adding that the effects of a default could be "catastrophic" for the global economy.
In April, the Democratic-led Senate rejected a 2012 budget plan, introduced by Republican Paul Ryan, aimed at cutting $6.2 trillion over the next decade through reductions in health care and social programmes.
Mr Obama said last month that a compromise with Republicans on spending cuts would be needed to raise the US debt ceiling and avoid a crisis.