Manitoba flood: Homes evacuated in Brandon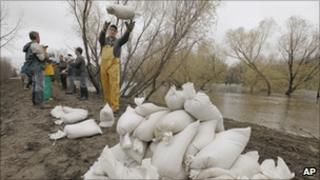 Officials in Manitoba have declared an emergency as flooding threatens the Canadian province's second largest city of Brandon.
Emergency workers are preparing to divert water to a swathe of rural land to protect other areas.
The authorities have warned people in the La Salle River watershed to move valuables from their homes.
On Wednesday, officials plan to release water into a 225-sq-km (86.9 sq-mile) area near Winnipeg.
The move would affect about 150 homes but would spare about 850 properties in a 500-sq-km area, the provincial government said in a statement.
Roughly 900 families were evacuated from Brandon, where on Monday Canadian soldiers were deployed to shore up dikes on the Assiniboine River.
In Portage la Prairie, Cartier, St Francois Xavier and Headingley, residents were warned to move valuables out of their homes or to higher levels within the properties.
And in the rural town of Cartier, 1,500 residents were told to evacuate on Monday evening, the CBC reported.
Winnipeg, the provincial capital and largest city, is not considered at risk.