FBI arrests Puerto Rican long wanted for $7m bank raid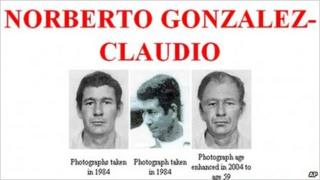 A Puerto Rican nationalist wanted for one of the biggest bank robberies in US history has been arrested in Puerto Rico, the FBI has said.
Norberto Gonzalez Claudio allegedly took part in a raid on a Connecticut bank depot in 1983, stealing $7m (£4m).
Mr Gonzalez, 65, was a member of a militant group, Los Macheteros.
The group is suspected of carrying out several bombings, robberies and murders in its fight for Puerto Rico's independence from the US.
Puerto Rico is a self-governing commonwealth of the United States.
Residents cannot vote in US presidential elections, but they do elect a non-voting delegate to the US Congress.
Still a threat?
Mr Gonzalez offered no resistance when he was arrested in the city of Cayey, an FBI spokesman said. Officials did not say what had led to his capture.
Mr Gonzalez had been sought for the past 25 years in connection with the robbery of an armoured car depot in West Hartford in Connecticut.
The robbers made off with $7m, worth some $15m in today's money.
US authorities say Mr Gonzalez belonged to Los Macheteros, the Machete Wielders, a militant group fighting for Puerto Rican independence.
Prosecutors say Los Macheteros used the stolen money to finance their campaign.
The group was mainly active in the 1970s and 1980s but the FBI still considers it a threat.
"As long as they continue to advocate the independence of Puerto Rico by force, they will always pose a danger," FBI agent Luis Fraticelli told the Associated Press news agency.
Mr Gonzalez's brother Avelino was sentenced last year to seven years in prison for his role in the robbery.