Long Island beach bodies had 'more than one' killer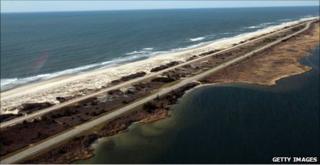 Several killers, not a single serial murderer, are behind the 10 bodies dumped along a beachfront highway on Long Island, New York, officials say.
As many as four people could be responsible for the human remains found on Ocean Parkway since December.
Suffolk County police originally thought one killer was to blame.
"What is now clear is the area around Gilgo Beach has been used to discard human remains for some time," district attorney Thomas Spota said.
"As distasteful and disturbing as that is, there is no evidence that all of these remains are the work of a single killer," he said.
Burlap cloth
Mr Spota gave no indication that police are any closer to identifying the killers.
Nor did he speculate how many more bodies might lie in the sandy scrubland behind the beach on the south shore of Long Island, just east of the New York City border.
Of the 10 sets of remains found, four have been identified as missing female prostitutes, whose deaths appear to be connected.
All of them had booked clients using the website Craigslist. Their bodies were all found in December, wrapped in burlap cloth.
The remains of a female toddler, an Asian male and two unidentified victims were also found. It was not clear how the child had died, police said.
Two further discoveries, in March, were the heads and limbs of two women whose dismembered torsos were found years ago in a town 45 miles (70km) away, Mr Spota said.
This indicates that their killer "went to extraordinary lengths" to cover the deaths up, he added.
Detectives believe the deaths of these two women are related.
Investigators continue to search for the remains of Shannan Gilbert, a New Jersey woman who was last seen in May at nearby Oak Beach, where she had arranged to meet a client she had been in contact with through Craigslist.
It was the hunt for her body which first triggered the revelation that Gilgo Beach was an apparent dumping ground for bodies.