Arizona responds to Obama migrant speech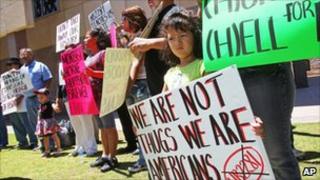 Calls by President Barack Obama for reform of the US immigration system have put the issue back at the heart of national debate. So how did his speech go down in the US state with some of the strongest immigration laws?
It's little wonder that Mr Obama chose not to make his call for comprehensive immigration reform in the border state of Arizona.
A year ago, in the absence of federal action on illegal immigration, the south-western state gained nationwide notoriety, by passing SB1070, one of the toughest immigration laws in the United States.
Among other provisions, it required police while enforcing other laws to check the status of suspects thought to be in the country illegally, sparking concerns it would lead to the racial profiling of Hispanics and force legal immigrants to carry papers.
Sitting in the statehouse in Phoenix, Arizona Governor Jan Brewer - the woman behind the law - takes a certain amount of satisfaction from the fact that the issue is now back on the White House agenda.
"I think that we've forced President Obama to - at least - explain what he's been doing," she said.
"Unfortunately I don't think he's been doing what he should be doing. If he came to our border, he'd see we're the gateway for illegal activity."
And she does not seem very receptive to the president's call for bipartisan efforts to solve the problem.
"The president had a golden opportunity last year, when his party held both houses of Congress. If he wanted to address that issue, why didn't he do it then? The fact that he comes forward now tells me it's more political rhetoric."
Arizona's attempt at unilateral action has become bogged down in the courts, following a challenge to some of the law's more controversial aspects - such as wider police stop and search powers.
This week, Ms Brewer vowed to challenge that decision in the US Supreme Court.
At the same time, the law has certainly damaged "Brand Arizona". Planned conventions have been cancelled; artists have boycotted the state. The pop singer Lady Gaga has even written a new song criticising the legislation.
One local singer, Joey Burns from the Tucson band Calexico, has a similar view, but a different approach.
"I'm on the same side, except I live in Arizona, so my instinct is to rally voters in the state doing free concerts, to inspire voters to get out and vote. It would be great to get everyone to come together in Arizona for a concert, to show we're all on the same team."
And even some of those who support what the governor is doing say they regret the reputation Arizona has acquired as an unwelcoming state.
Ms Brewer's response is to say that the law has been misunderstood.
"The federal government said we were racial profiling, but it's normal that - when police stop someone in the act of committing a crime - they ask them for identification," she said.
"For people to portray Arizona as racist is absurd and unfair. It's simply not true."
Yet - even without the full implementation of the law - the fear of a clampdown has had an effect on the local Latino community.
At Phoenix's Gran Mercado - usually a bustling market for the Spanish-speaking community - traders are less concerned with the people who aren't now coming to Arizona than with those who have left.
According to one stallholder, the mere threat of having their papers searched is keeping three-quarters of the regular customers away, while Abram, who was pushing his small baby past stalls selling children's plastic police sets, said that his relatives - who are in the country illegally - had come to view the American dream with a mixture of hope and fear.
"They've been here all their life. All they know is English. But now they're worried, they're cautious, they don't drive; they're scared to get out of their houses."
And amid this fear, new challenges to the state's cohesion are emerging. In Tucson, closer to the Mexican border, a group of high school students is holding a weekly protest outside the offices of the Tucson Unified School District.
They are angry at the school board's decision to downgrade their ethnic studies programme to one that does not contribute to high school credits.
They believe Mexican American studies should be an integral part of the high school curriculum, in a state that was part of Mexico until the mid-19th Century.
The official who has targeted the ethnic studies programme, Tom Horne, is now Arizona's attorney general. He explained why the subject was a threat to the US.
"They teach the students that America is dominated by a white racist imperialist power structure that wants to oppress Latinos," he insisted.
"We should be teaching these kids it's the land of opportunity, and if they work hard they can achieve whatever they want to - and not teach them they're oppressed."