Mounties in Vancouver Taser case charged with perjury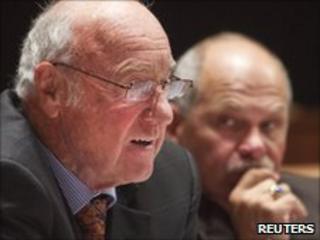 Canadian authorities have charged four Mounties who repeatedly used stun guns on a Polish immigrant with perjury.
Robert Dziekanski, who was hoping to start a new life in Canada, died shortly after being stunned with Taser guns at Vancouver airport in 2007.
Investigators concluded last year that the four officers had deliberately misrepresented their actions.
Lawyers for two of the accused said their clients would plead not guilty and vigorously defend themselves.
The officers will appear in court next month to face the charges.
Mr Dziekanski was en route from Poland to join his mother in the city of Kamloops. He could not find his mother at the airport terminal, and spent several frustrating hours trying to make himself understood.
Accounts vary of the confrontation with police that led to him being stunned. But his death shortly afterwards is undisputed.
'Vigorous defence'
The head of the inquiry into the incident, Thomas Braidwood, has described their behaviour as "shameful".
Special prosecutor Richard Peck recommended the perjury charges after considering the findings of the inquiry. His report, released on 6 May, did not recommend any charges relating to the death itself.
In a statement on Thursday, the Criminal Justice Branch said the charges were filed by direct indictment, meaning there will be no preliminary hearing.