McCain Foods co-founder Wallace dies in Canada age 81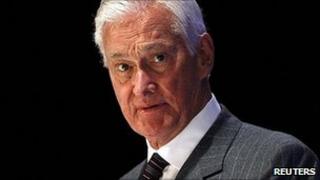 Wallace McCain, a billionaire Canadian frozen food mogul and philanthropist, has died aged 81.
The co-founder of the McCain Foods empire died in Toronto on Friday, after losing a 14-month battle with cancer.
He helped turn a small French fry plant into a global business, renowned for its oven chips and frozen pizzas.
Forbes Magazine ranked Mr McCain 512th on its annual list of the world's billionaires, estimating his personal net worth at $2.3bn (£1.4bn).
'Great Canadian'
His death was announced by the board of directors of Maple Leaf Foods, a company he also controlled.
Former Prime Minister Paul Martin praised Mr McCain as a great Canadian.
"What he built in business is now part of our history," Mr Martin said in a statement.
"But what should be known as well was his infectious sense of humor, his compassion and his generosity to so many causes dedicated to making the lives of Canadians better."
Mr McCain and his brother Harrison founded McCain Foods Ltd in New Brunswick in 1956.
The company now operates in 44 countries and produces more frozen chips than any other in the world.
In 1995, he became an Officer of the Order of Canada - one of the country's highest honours.
He was also known for his philanthropic activities, fundraising for Canada's National Ballet School, and establishing an entrepreneur training institute in his name at the University of New Brunswick.
"I liked making money," Mr McCain once said, "but I love giving it away even more."
He is survived by his wife Margaret, his four children and nine grandchildren.