Rahm Emanuel sworn in as mayor of Chicago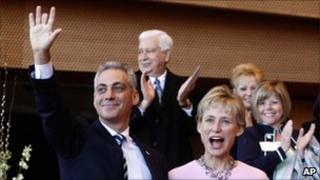 President Barack Obama's former chief of staff, Rahm Emanuel, has been sworn in as Chicago's first new mayor in more than two decades.
Chicago's Millennium Park was the backdrop as Mr Emanuel took the oath of office on Monday.
"We must face the truth," Mr Emanuel said in his first speech as mayor. "It is time to take on the challenges that threaten the very future of our city."
Mr Emanuel was elected in February, with 55 percent of the vote.
The former congressman, who is the city's first Jewish mayor, replaces Richard Daley, who was first elected in 1989.
The election was the first Chicago mayoral race in more than 20 years without Mr Daley listed among the candidates and the first race in over 60 years without an incumbent on the ballot.
Former Mayor Daley's father, also called Richard Daley, was mayor from 1955 until his death in 1976.
Mr Emanuel, who left the White House in October and returned to Chicago to run for mayor, outspent his opponents but had to spend considerable time re-introducing himself to voters after years in Washington, analysts say.