Dominique Strauss-Kahn: Sombre in face of sex charges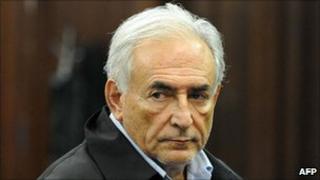 Dominique Strauss-Kahn, in court in New York on sexual assault charges, was denied bail and is being held in custody. The BBC's Laura Trevelyan reports from inside the court room.
Sombre and pensive, Dominique Strauss-Kahn sat on the bench of room 130 in the Manhattan Criminal Court along with the other defendants.
The suntanned IMF chief wore a black trench coat and an open-necked pale shirt, in contrast to the jeans and sweatshirts of the others waiting to be brought before the judge.
Charges of crack cocaine dealing, stealing, and violence were heard, bail applications of between $500 (£309) and $2,000 were granted, and then it was the turn of Mr Strauss-Kahn, head of an institution that lends to countries in crisis.
He faces charges of sexually assaulting and attempting to rape a maid at a Manhattan hotel, to which his lawyers pleaded not guilty on his behalf.
Mr Strauss-Kahn, known widely as DSK, posed unsmilingly for the official court photographer, as the reporters crowded into the packed room scribbled down every detail of his appearance.
Public stage
At one point before proceedings started, this member of the global financial elite was taken out of the court, and as the door opened we saw a glimpse of the holding cells behind.
This is not a public stage the IMF chief usually occupies.
The only similarity between this and DSK's normal life of summits and high level meetings was the camera allowed into the courtroom to witness the arraignment.
The IMF chief was impassive as he heard the prosecution say the victim had provided a detailed account of her claims, and that an examination at the hospital had confirmed her story.
He listened intently as prosecutors suggested he might have engaged in similar behaviour once before.
Mr Strauss-Kahn also heard the prosecution argue that the manner in which he tried to leave the country on Saturday by plane proved he was in a hurry to get out, and therefore should be remanded in custody and not granted bail.
His defence team insisted he was on the plane because of his pre-planned schedule, not because he was trying to flee.
Mr Strauss-Kahn would post $1m in bail, said his lawyers, and he was not a flight risk because he wanted to clear his name.
But Judge Melissa Jackson was concerned enough to deny him bail and remand him in custody at least until his next court appearance on 20 May.
Possible alibi
Afterwards DSK's lawyers pronounced themselves disappointed by the bail ruling, and vowed that the battle against the charges of attempted rape and sexual assault had only begun.
Mr Strauss-Kahn, who was due to be present at key meetings on Europe's debt crisis this week, will spend the time in police custody, starting the fight to clear his name.
One clue emerged in court as to what may be the alibi the defence is trying to establish for DSK.
The person he lunched with on Saturday will confirm he was not trying to flee, his lawyers said.
Could this be Mr Strauss-Kahn's daughter, who lives in New York? We will learn more in the coming weeks.