Arnold Schwarzenegger admits fathering employee's child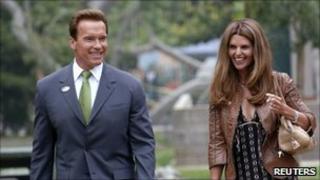 Former California Governor Arnold Schwarzenegger has acknowledged he fathered a child with a member of his household staff more than 10 years ago.
"After leaving the governor's office I told my wife about this event, which occurred over a decade ago," Mr Schwarzenegger said in a statement.
Earlier this month the former actor and his wife Maria Shriver said they were separating after 25 years of marriage.
Ms Shriver moved out of their Los Angeles mansion earlier in the year.
In his statement, Mr Schwarzenegger said: "I understand and deserve the feelings of anger and disappointment among my friends and family."
He and Ms Shriver have four children together between the ages of 14 and 21.
Ms Shriver said in a statement: "This is a painful and heartbreaking time. As a mother, my concern is for the children. I ask for compassion, respect and privacy as my children and I try to rebuild our lives and heal."
The couple's children posted messages on Twitter expressing their love for their family and thanks to supporters for their sympathy.
The 63-year-old former governor has maintained a high public profile and worked to revive his movie career since finishing a seven-year run as California governor in January.
'Truly sorry'
The name of the former member of Mr Schwarzenegger's household staff with whom he fathered the child has not been made public. But reports said she worked for the family for 20 years and retired in January.
In an interview on Monday, before the former governor issued his statement, the woman told the Los Angeles Times that another man, her husband at the time, had fathered her child.
When the Times informed her of Mr Schwarzenegger's statement later on Monday, the woman declined to comment further.
"I have apologised to Maria, my children and my family. I am truly sorry," Mr Schwarzenegger said.
Ms Shriver supported her husband during his 2003 campaign, following accusations by more than a dozen women who said Mr Schwarzenegger had groped them in the past.
The former governor responded to the accusations by saying he "behaved badly sometimes".
The former first couple of California have been married for 25 years and did not mention a cause for the separation when it was announced last week.
Prior to taking office, Mr Schwarzenegger was best known for starring in the Terminator action films.
Ms Shriver, a member of the Kennedy dynasty, left her job as a TV reporter when her husband was elected as governor.