Canadian PM Stephen Harper unveils new cabinet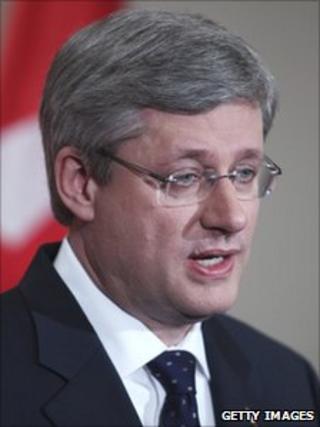 Canadian Prime Minister Stephen Harper has announced a new cabinet, promoting one of his most trusted lieutenants to the job of foreign affairs minister.
Former House of Commons leader John Baird will replace Lawrence Cannon, who was defeated in the federal election.
Finance Minister Jim Flaherty and Defense Minister Peter MacKay will stay in their current posts.
Mr Harper's Conservative Party won a majority government for the first time since 1988 in the election on 2 May.
Mr Baird was among only a small number of new appointments to Mr Harper's cabinet.
"Canadians can count on this government to pursue measures that create jobs and growth - and reduce and eliminate the deficit," Mr Harper said in a statement.
Mr Flaherty, who has held the position of finance minister since 2006, is considered one of the most influential members of the government.
During his campaign, Mr Harper referred to Mr Flaherty as the "best finance minister in the world", saying he played a prime role in pulling Canada out of its economic recession.
The Conservative government has said it will eliminate the deficit as early as 2014, if it is able to curb government spending.