Canada PM Harper tours Slave Lake wildfire devastation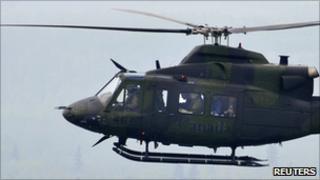 Canadian Prime Minister Stephen Harper has toured by helicopter a Canadian town ravaged by wildfires this week.
The Conservative leader flew over Slave Lake with Alberta Premier Ed Stelmach, and the two were expected to walk through the town from where 7,000 people have been evacuated.
The fires have destroyed 433 properties in Slave Lake and the surrounding area.
The Alberta government has pledged 50m Canadian dollars ($51.3m; £32m) in aid to fire evacuees.
"Many families will remember the effects of these unprecedented wildfires for the rest of their lives," Mr Stelmach said in a statement.
"These programs will help them begin the first steps toward recovery."
Slave Lake is about 130 miles (210km) north-west of Edmonton, Alberta's capital.