Canada officers shot in Quebec 'domestic dispute'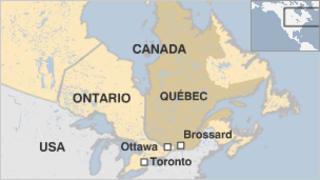 A Quebec provincial police officer has been killed and another wounded after an apparent domestic dispute ended in gunfire, officials have said.
A man in the city of Brossard was shot to death and a woman shot in the leg.
A police spokesman told local media that investigators believe the male officer shot himself and that all the bullets were fired from his gun.
He declined to specify the nature of their relationship. The shooting occurred in the woman's home.
"The shooting seems to have been one where the man took his own life," Longueuil Pc Martin Simard told the Montreal Gazette.
"Whether he shot the woman before doing that, or inadvertently, remains to be seen. The shots were all fired inside the home and he did not live there."
After the shooting, which happened on Saturday night, the man, aged 45, was transported to hospital where he was pronounced dead. The injury to the woman officer, 33, was said not to be life-threatening.