Elizabeth Smart kidnapping: Mitchell gets life in jail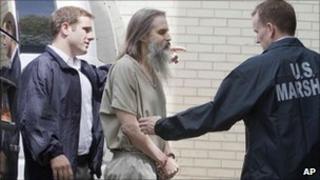 A homeless street preacher who kidnapped a 14-year-old girl in the US state of Utah in 2002 has been ordered to spend life in prison.
Elizabeth Smart, who was held captive for nine months by Brian David Mitchell, looked on as he was sentenced in a federal court in Salt Lake City.
"I know that you know what you did is wrong," Ms Smart told Mitchell.
Mitchell was found guilty in December of abduction and the transportation of a minor across state lines for sex.
The 57-year-old preacher, who had pleaded insanity in December, was handed two life sentences by US District Judge Dale Kimball in federal court in Salt Lake City on Wednesday, years after he was declared mentally ill and unfit to stand trial in state court.
Mitchell's estranged wife Wanda Barzee pleaded guilty to kidnapping in 2009.
Authorities have said Mitchell kidnapped Ms Smart, now 23, from her parents' home in Utah at knife point.
He had met the family when Ms Smart's parents hired him for casual handiwork.
Helping other children
Ms Smart briefly took the witness stand on Wednesday, confronting her kidnapper for the first time since the abduction ended.
"You will never affect me again," Ms Smart said.
"You took away nine months of my life that can never be returned," she added.
Speaking to reporters outside the courtroom in Utah, Ms Smart said she wanted to help bring other missing children back to their families.
Mitchell sang quietly to himself in the courtroom on Wednesday and did not respond when the two life sentences were handed to him.
Prosecutors said in December that Mitchell forced Ms Smart into a self-styled polygamous marriage and raped her almost daily, gave her alcohol and drugs to lower her resistance and threatened to kill her, her family and anyone who tried to rescue her.
The case was delayed for years after a state court found Mitchell incompetent to stand trial. Federal prosecutors stepped in, contending Mitchell was feigning mental illness in order to avoid prosecution.
Ms Smart was reunited with her family after she was spotted - wearing a dark wig and a veil - in the company of Barzee and Mitchell in Salt Lake City, about 10 miles (15km) from her home.
Barzee is due to be released from prison in 2016.