New York mobster 'Vinny Gorgeous' avoids death sentence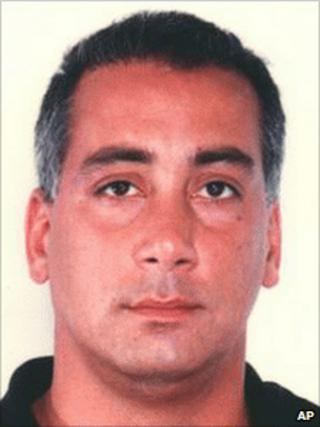 A New York City mobster convicted of murder for ordering the killing of an associate has avoided a death sentence.
A jury deliberated for less than two hours at Brooklyn's federal court before handing another life sentence to Vincent "Vinny Gorgeous" Basciano.
Prosecutors said Basciano deserved to die for the 2004 killing of Randolph Pizzolo, and that life behind bars would not stop his illegal activities.
Basciano's lawyer said he should die in prison "in God's time, not man's".
The same jury found the former acting boss of the Bonanno crime family guilty on 16 May of murder, racketeering, conspiracy and other charges.
He was already serving life without parole for the 2001 murder of Frank Santoro.
'Ultimate punishment'
The case against him was based in part on testimony from convicted mob boss Joseph Massino, who wore a wire while they were in jail together.
Massino testified that Basciano had admitted ordering Pizzolo's death, allegedly as payback for a drunken tirade by Pizzolo during which he demanded induction into the crime family. He said the victim was a "scumbag, a rat, a troublemaker".
The court was played an audio recording of Basciano boasting: "I'm a hoodlum, I'm a tough guy. Whatever happens, happens. Let's go."
Prosecutors portrayed the 51-year-old as a cold-hearted killer who deserved death. They also said life in prison would not prevent him trying to use visitors to pass on orders to fellow mobsters. Basciano ordered the Pizzolo hit while incarcerated, they noted.
"Even with a life sentence, he will not be stopped," Assistant US Attorney Nicole Argentieri told the jury. "His mind will always be in the street."
"The defendant has earned the ultimate punishment."
Basciano's lawyer, Richard Jasper, said his client would pose no threat if imprisoned at the federal maximum-security, or Supermax, prison in Florence, Colorado, "the biggest, baddest house in the federal system" where "everybody is in lockdown".
He urged the jurors to "suspend the work of death until Vincent Basciano dies in a federal prison by himself - in God's time, not man's".