Arizona shootings: Five killed in Yuma County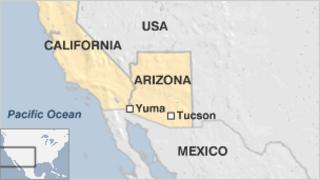 An elderly man shot and killed five people in Yuma County in the US state of Arizona before taking his own life, officials said.
Carey Hal Dyess, 73, killed lawyer Jerrold Shelley, who represented Dyess' ex-wife in their 2006 divorce.
In addition, Dyess shot and wounded a friend of his ex-wife, a police official told the Yuma Sun newspaper.
"This is not a random act," Yuma Police Chief Jerry Geier told reporters. "These victims were targeted."
'Sorely missed'
The shooting spree occurred Thursday morning over a stretch of Arizona desert about 20 miles (34km) north of the Mexico border.
Judge Andrew Gould told reporters Mr Shelley was preparing to retire after decades in law.
"He was one of the best attorneys that this county has ever seen," Mr Gould told reporters.
"He was a great family man He loved his wife very much. He's going to be very sorely missed."
The first shooting took place about 0500 local time (1200 GMT). That victim was in critical condition in hospital, police said.
About four hours later, Dyess entered Mr Shelley's law office, ordered an administrative worker to take cover, then shot and killed the lawyer.
The other four killings took place in and around the city of Yuma.
Dyess killed himself about six hours after the first shooting, officials said.
Police said they would release more details as the investigation proceeded.