Jack Kevorkian: 'Doctor Death' dies in US aged 83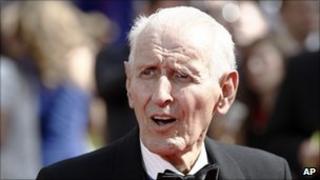 Jack Kevorkian, the man known as "Dr Death", for helping the terminally ill end their lives, has died in the US aged of 83, his lawyer has said.
Mayer Morganroth told the Associated Press news agency Kevorkian died on Friday at Michigan's Beaumont Hospital.
Kevorkian died after a blood clot from his leg broke free and lodged in his heart, the Detroit Free Press reported.
He was believed to have assisted in 130 suicides and was released from prison in 2007, after serving eight years.
The BBC's Steve Kingstone, in Washington, says no one disputes that Jack Kevorkian prompted debate. Today, doctor-assisted suicide is legal in three American states.
Kevorkian had been in hospital since last month with pneumonia and kidney problems, said Mr Morganroth, who was also a friend of Kevorkian's.
He added that hospital staff played recordings of classical music for Kevorkian before he died.
Murder conviction
Kevorkian was originally given a 10-25 year sentence for a second-degree murder conviction in the death of terminally ill Thomas Youk.
But the former pathologist later won an appeal based on his own failing health and served only eight years.
His lawyers had said he suffered from hepatitis C and diabetes.
He had promised in affidavits that he would not assist in a suicide if he was released.
Kevorkian told the BBC in 2007 he had no regrets for conducting assisted suicides.
"I knew what I was doing... I accepted the consequences because I had to do the right thing," he said.
The doctor ran for US Congress as an independent in 2008, receiving just 2.7% of the vote in a suburban Detroit district.
A film about Kevorkian's life, called You Don't Know Jack, was shown for the HBO television network in 2010.
The actor Al Pacino won an Emmy and Golden Globe Award for his portrayal of the pathologist.
Kevorkian had claimed to have assisted in some 130 suicides, mostly in the Detroit area between 1990-98.
Born in 1928, Kevorkian went to medical school, then worked as a pathologist - before retiring to pursue his controversial mission.
Kevorkian first gained international attention in 1990, helping a 54-year-old Alzheimers patient to die.
Many assisted suicides were conducted using his so-called mercy machine, which delivered lethal amounts of drugs intravenously.
Kevorkian's methods alienated many. In 1998 he offered on a "first come, first served" basis the kidneys of a man he had helped to die.