Illinois zoo giraffe takes birth control to share pen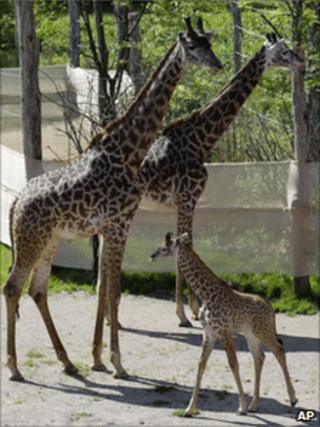 Two giraffes in an Illinois zoo are to share an enclosure after the female began taking contraceptives to prevent the pair breeding, local TV reports.
New arrival Vivian was to join male Taji in the autumn but refused to take the birth control, WMBD television in Peoria, Illinois, reported.
But recently, zoo keepers offered her contraceptive wrapped in lettuce, which she accepted, the station reported.
The zoo had deemed the pair an unfit genetic match.
Vivian was born in South Carolina in 2009 and arrived in Peoria in October. She was brought into keep Taji company after the death in June of male giraffe Savannah.
The Peoria Journal Star reported in October she was to be given feed milled with a birth-control drug.
Officials at the zoo have said they hope to acquire a third giraffe - another female - to mate with Taji.