US pledges wider military presence across Pacific Rim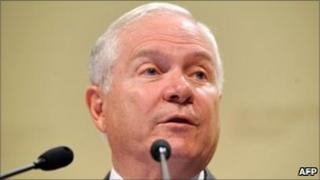 The US says it will expand its military presence across the Pacific Rim despite budget worries and the ongoing commitments in Iraq and Afghanistan.
US Defence Secretary Robert Gates, speaking in Singapore, said the US would strengthen its military ties with Australia and Singapore.
He said new ships and technologies would be deployed to protect allies and shipping lanes in the region.
Many Asian nations have become fearful of China's recent military expansion.
Mr Gates is due to step down as defence secretary at the end of June and hand over to Leon Panetta, currently the director of the CIA.
The pledge comes despite US plans to cut military spending.
Mr Gates acknowledged the strain the wars in Iraq and Afghanistan had put on the armed forces and on public appetite for military interventions.
The US has significantly reduced troop numbers in Iraq and is looking to do the same this year in Afghanistan.
'Positive trajectory'
"America is, as the expression goes, putting our money where our mouth is with respect to this part of the world, and will continue to do so," Mr Gates told the Shangri-La Dialogue, the region's foremost security forum.
"The United States and Asia will only become more inextricably linked over the course of this century.
"These realities... argue strongly for sustaining our commitments to allies while maintaining a robust military engagement and deterrent posture across the Pacific Rim," he said.
"In the coming years, the United States military is also going to be increasing its port calls, naval engagements and multilateral training efforts with multiple countries throughout the region."
Mr Gates said military ties with its traditional allies Japan and South Korea would be modernised while partnerships with Australia and Singapore would be enhanced to be better able to respond to humanitarian disasters or other crises.
He met China's Defence Minister Liang Guanglie and said the two countries' military relationship was "on a positive trajectory", after setbacks in recent years.
US arms sales to Taiwan and China's claim to disputed waters that the US sees as international remain irritants.