Canadian Conservative Party's website hacked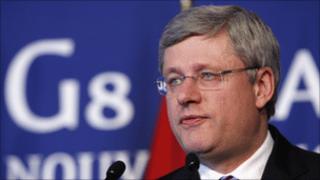 Hackers took control of the Canadian Conservative Party's website, changing it to read falsely that PM Stephen Harper had been rushed to hospital.
Mr Harper's office later said he was in good health and had not choked on a fried potato dish.
Canadian media attributed the hack to a person or group called LulzRaft, which boasted of the feat on Twitter.
The Canadian Conservatives, who had led a minority government since 2006, won a parliamentary majority in May.
On Tuesday morning the website read: "The prime minister has been rushed to Toronto General Hospital (TGH) this morning after an incident at breakfast. According to staff at the hospital, Harper was brought in via helicopter early this morning after his wife called 911. He was eating breakfast with his kids when a piece of hash brown lodged in his throat, blocking air from reaching his lungs. A member of his security team happened to be nearby and immediately began to apply first aid."
About 1100 local time (1500 GMT), LulzRaft wrote on Twitter: "So everyone like our little Harper rumour? To clarify: we never said he was dead, just that he was rushed to hospital."
LulzRaft also posted what appeared to be a list of usernames and passwords allowing access to the Conservative Party website's administrative workings on a website that allows users quickly to publish small blocks of text.
The Conservative website was not immediately accessible on Tuesday afternoon.
The BBC's Lee Carter in Toronto says the incident highlights the growing number of hacking incidents and security breaches on government, national and corporate websites worldwide.