US police say no bodies found at 'mass grave' site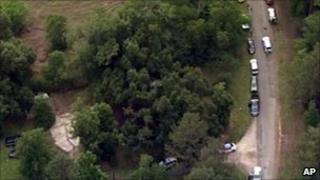 US police say there were no bodies found at a house in east Texas, where an anonymous caller claiming to be a psychic said there was a mass grave.
US media earlier reported there were up to 30 dismembered bodies including children buried there.
A Sheriff's Department spokesman says they found no indication of bodies anywhere on the property.
Authorities say they have a name and number and are trying to trace the caller.
Liberty County Sheriff's Department spokesman Rex Evans says the office took the tip seriously because the caller had details of the the interior of the house
"We are going to continue our investigation and find out how this individual had this information in the first place," he said.
Aerial shots on local TV stations showed a dozen police vehicles parked along a road in wooded country, 50 miles (80 km) east of Houston, as the authorities investigated the claim.
The FBI confirmed it had been asked to take part in the investigation.