Can Newt's presidential campaign survive desertion?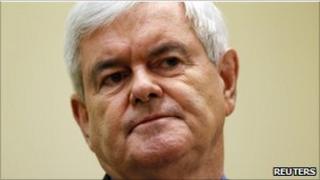 "Imploding Newts" might sound like an oath from Batman's sidekick, but it is the latest news from the Republican presidential trail.
Just about Newt Gingrich's entire staff have jumped over board, in the political equivalent of a mass suicide.
The campaign manager, gone. The spokesman, gone. The chief consultant in Iowa, gone. The chief consultant in South Carolina, gone.
They say it was over differences of the direction of the campaign. One difference appears to be that Newt and his wife wanted to go on a Greek cruise, while they wanted him to go campaigning.
You can only wonder at the intense exasperation that must have driven them to this.
Comeback kid?
I suspect part of the trouble is that Gingrich wants to be his own strategist, and might have some pretty unconventional ideas about how the campaign should go.
He is already missing a wordsmith, if his Facebook announcement is anything to go by:
"I am committed to running the substantive, solutions-oriented campaign I set out to run earlier this spring. The campaign begins anew Sunday in Los Angeles."
It's hardly "I fight on, I fight to win."
His campaign has been very rocky from the start and most thought he was already holed below the water line.
He's a survivor but it is hard to see how he survives this.
Election campaigns can be a swirl of combustible emotions and ambitions. Frequently there's an explosion that leaves blood on the walls, as the candidate sacks some of the team.
It's the first time I have heard of the team sacking the candidate.