US Army abandons 'impractical' black berets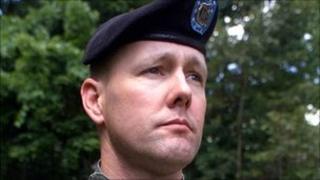 The US Army says it is getting rid of the black woollen berets worn by its soldiers after many of them complained it was too impractical to wear.
One soldier told the US Army Times it was like wearing a "wet sock" on his head.
A US army spokesman said the beret, which was introduced 10 years ago, would be replaced by a patrol cap and worn by soldiers in the field.
The change will apply to more than a million soldiers in the United States.
It will also bring a cost benefit - the patrol cap comes in at almost half the price.
Poor shielding
Units that have long worn berets as a mark of distinction, such as army special forces, Rangers and Airborne, will not be affected.
"I hate wearing a wet sock on my head," Chief Warrant Officer Mark Vino, at Joint Base Lewis-McChord in Washington state, told the Army Times.
US Army spokesman Col Tom Collins told Agence France-Presse: "[The beret] does not have a visor and doesn't shield the sun, doesn't absorb sweat well."
But the beret will remain standard headgear for soldiers when they wear their dress uniform for more formal events.
Col Collins also told AFP that from July dress uniform would replace camouflage for soldiers serving in the Pentagon.
Combat uniforms were adopted for all armed services personnel to reflect the war footing following the 9/11 attacks.