Nova Scotia told to fund medical marijuana operation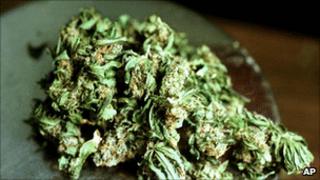 A Canadian province has been ordered to pay for an ill couple's medical marijuana, Canadian media report.
The Nova Scotia income assistance appeals board ruled the couple needed treatment but were unable to afford growing supplies, CBC news reports.
The board ordered Nova Scotia to pay 2,500 Canadian dollars ($2,541; £1,569) to set up the growing operation.
The wife was injured in a car accident and her husband suffers from glaucoma and smokes marijuana to ease the pain.
"When I don't smoke marijuana, I have so much pain that I don't want to get out of bed. I have no energy, I don't want to do nothing," the woman told CBC News.
As well as the set-up costs, the province was also ordered to pay 100 Canadian dollars every three months towards the running costs of the growing operation.
A spokeswoman for Nova Scotia said the province was referring the decision to its lawyers but had yet to make a decision on whether to appeal, the Globe and Mail newspaper reported.
Canada's medical marijuana law came into effect in July 2000.
Patients are required to have licenses to use the drug for medical treatment.