Lufthansa and Egypt Air in 'near miss' at JFK runway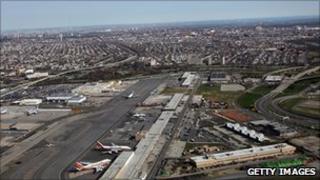 A Lufthansa jet was forced to abort a take-off from New York's JFK airport after an Egyptian plane on the ground strayed too close to the runway.
"Cancel take-off plans," the American air traffic control official shouted over the radio.
A US air traffic official said an EgyptAir jet was told to remain 250ft (76m) from the runway the Lufthansa plane was using, but moved too close.
The Lufthansa jet braked quickly after being ordered to stop by air traffic.
Radio chatter indicates the pilot slammed on the plane's brakes after being ordered to come to a stop.
US aviation authorities are now investigating how the near-miss came about.
The Munich-bound Lufthansa plane, an Airbus A340, was carrying 286 passengers, while the Egypt air jet was a Boeing 777, the New York Post reported.
Kathleen Bergen, a spokeswoman for the Federal Aviation Administration, told the Associated Press the Lufthansa plane stopped "a considerable distance" from EgyptAir flight 986.
After the Lufthansa plane halted, the pilot said he had "hot brakes" and needed to take a minute. The tower controller then said a maintenance crew would inspect them.
Then, a man identified as a pilot for a Virgin America plane said on the radio: "That was quite a show. We thought it was going be a short career."