US man charged with sexually abusing Haitian boys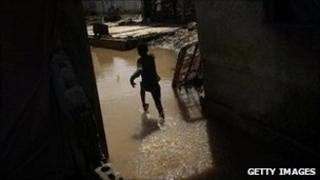 A US man who ran a centre for impoverished boys in Haiti has been charged over claims that he forced them to perform sex acts for food and shelter, prosecutors have said.
Matthew Andrew Carter, who operated the Morning Star Center, has been charged with four counts of child sex tourism.
Investigators said the 66-year-old "preyed upon" impoverished boys and performed acts that "defy belief".
Mr Carter was arrested in Miami on 8 May and pleaded not guilty on Thursday.
Mr Carter, who also went by the names William Charles Harcourt and Bill Carter, had operated the Morning Star Center in Port-au-Prince since the mid-1990s and lived there with Haitian boys, according to court documents.
"The acts that the defendant is charged with committing, quite simply, defy belief," Assistant Attorney General Lanny Breuer said in a news release.
He added: "As charged in the indictment, he preyed upon and terrorized impoverished Haitian children who were in dire need of the services offered by the Morning Star Center - the very children he was purporting to help."
The facility was originally established to provide shelter, food and education to Haitian minors, court documents said.
Mr Carter is charged with four counts of child sex tourism, or travelling in foreign commerce to engage in illicit sex with minors.
'Preying upon children'
At the time of his arrest in May, 14 boys were living at the Morning Star Center, with three spending their weekends at the facility.
The court documents claimed that Mr Carter had sex with at least eight boys, sometimes for years until they became adults and left the centre.
Carter also allegedly forced the boys to shower with him and asked them to perform sexual acts on him in his bedroom, according to a US investigator who interviewed several of the youths from the facility.
Prosecutors said those who agreed to his requests were given schooling, clothing, books, compact disc players and cash.
"This defendant preyed on innocent Haitian children living in severely depressed conditions, making his conduct particularly deplorable," said Attorney Wifredo Ferrer.
Mr Ferrer added that instead of using the facility to "provide sanctuary to needy children", the Michigan resident used the facility to "manipulate, abuse and sexually exploit them".
"Few crimes are as despicable as the ones committed against these children in Haiti," said Immigration and Customs Enforcement (ICE) Special Agent Director John Morton.
A public defender assigned to represent Mr Carter has not commented on the case.
If convicted, Mr Carter faces up to 105 years in prison.