Alleged mobster James "Whitey" Bulger in Boston court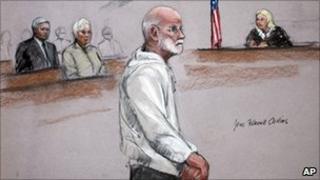 Alleged gang boss James "Whitey" Bulger has returned to his home city of Boston to appear in federal court, following his arrest in California.
Mr Bulger is accused of committing 19 murders. He asked for a public defender, but prosecutors objected, citing large sums of money found at his Santa Monica home.
A ruling has not yet been made on the 81-year-old's request.
He was on the FBI's "Ten Most Wanted" list and spent 16 years on the run.
Mr Bulger, who was arrested on Thursday, is accused of involvement in 19 murders as well as running the Winter Hill gang in the Boston area in the 1970s and 1980s.
He is the inspiration for the main character in the Martin Scorsese film The Departed.
Politician brother
Attorney Peter Krupp was appointed to represent Mr Bulger, who then asked for a public defender.
Mr Bulger waived his right to a detention hearing on Friday, but Mr Krupp said he may ask for a hearing in the future.
The alleged mob boss, who walked into the heavily guarded federal courthouse in handcuffs and a white shirt, is said to have boasted that he corrupted six FBI agents and more than 20 police officers.
Some officials have speculated that Mr Bulger may try to cut a deal with investigators by naming some of those he worked with.
"They are holding their breath, wondering what he could say," Robert Fitzpatrick, the former second-in-command of the Boston FBI office, told the Associated Press news agency.
Former Massachusetts Speaker of the House William Bulger, James Bulger's brother, was in attendance at the arraignment in Boston.
Mr Bulger was arrested on Thursday with his long-time girlfriend, Catherine Greig, 60, days after the FBI began airing public service announcements focusing on Ms Greig.
Officials said on Thursday the publicity campaign had generated the tip that led to their discovery in Santa Monica, California, where the couple had been living under assumed names.
The government is seeking to seize the 30 guns and about $800,000 (£501,000) in cash found inside their apartment, where Mr Bulger was arrested.
Ms Greig is due to appear in court on charges of harbouring a fugitive.