Two Canadian soldiers charged over training death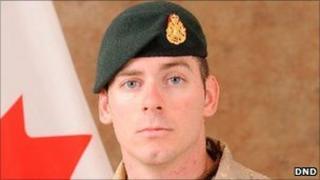 Two Canadian soldiers have been charged with manslaughter over the death of a colleague during a training exercise in Afghanistan.
Cpl Joshua Caleb Baker, 24, died in an explosion on a firing range at Kandahar Airfield in February 2010.
Maj Darryl Watts, the officer in charge of the range, and Paul Ravensdale, a safety officer, are charged with manslaughter and other offences.
Investigators say safety procedures were not followed during the exercise.
Military officials said in 2010 that Cpl Baker, a native of Edmonton who was serving with the Loyal Edmonton Regiment, died during the course of "a routine military exercise".
Four others were injured in the incident, which took place on a range about four kilometres from Kandahar.
Captain Karina Holder, a spokesperson for the Department of National Defence, said the soldiers had been training with a C-19, a command detonated defensive weapons system, at the time of the explosion.
The charges against Maj Watts and Mr Ravensdale include manslaughter, negligent performance of a military duty and four counts of unlawfully causing bodily harm.