French media frenzy over Strauss-Kahn case 'doubts'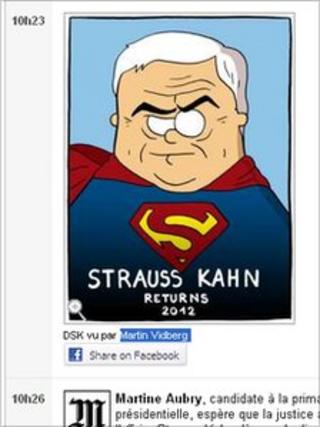 Reports that US prosecutors have doubts about the credibility of the alleged victim in the Dominique Strauss-Kahn sexual assault case has sparked a media frenzy in France.
The development came as a "thunderbolt for France's political class", according to a headline in Le Figaro.
Online editions of the centre-right daily and other French newspapers snapped up the story just after it broke early on Friday, Paris time.
One of the main left-of-centre newspapers, Le Monde, started a live event page at 0708 (0608 GMT), on which the daily newspaper's editor Alain Frachon was taking questions.
A "coup de theatre", the left-of-centre Liberation wrote, its story netting nearly 1,400 comments by mid-morning. One reader proclaimed "DSK is innocent!!!". Another asked "Who set up DSK?"
In an indication of the sheer excitement about the story, live pages were also being run by other papers, such as Le Parisien and Ouest-France.
'Game-changer'
In the media melee, Le Monde also used the term "coup de theatre" in its story while Lionel Jospin, the former French Socialist leader, was quoted on its live page using the word "thunderbolt".
"DSK" was only recently seen as the French left's best hope of winning next year's presidential election.
Mr Strauss-Kahn, who resigned as head of the International Monetary Fund to defend himself, strongly denies the charges.
He is due to appear in court in New York later on Friday.
"Could the French presidential election be shaken up again?" wrote Le Figaro.
"After the events of this night... the strongest supporters of Dominique Strauss-Kahn now believe their champion could make a return if the accusations against him are dropped.
"A part of the Socialist Party in France actually think this comeback could act as a game-changer in the [party's] primary election..."
Le Figaro's print edition on Friday looked decidedly old, leading as it did on what was known about the DSK case before the news broke in New York.
Under the headline "The hour when everything collapsed for DSK", it promised a "minute-by-minute reconstitution of the events which sealed his fall".
Le Monde's live page splashed a photo of its political rival's rapidly ageing front page.
It quoted Socialist MP Francois Pupponi, who said DSK could make a comeback, "provided he wants to". But he added: "It would be extraordinary all the same."
'Carried away'
A leftist blogger from Brittany, Blog d'un socialiste, wrote that the news from New York had brought "a smile and relief".
"Dominique Strauss-Kahn could be completely cleared this evening or in the days to come..." he said.
"He remains our best candidate, and the best to lead France."
Les coulisses de Sarkofrance, a "concerned citizen" who blogs about the Sarkozy presidency, analysed the reports from New York, then wrote: "Everyone in France is getting carried away.
"On Friday 1 July, some were already weighing up the chances of DSK returning to France if not, mad as it seems, to the Socialist primaries.
"The excitement is pointless. DSK is disqualified and the case is not closed. Far from it."
Taking questions, Le Monde's editor stressed that journalists could only stick to what they knew, which was "still partial".
"What can be debated, on the other hand," Frachon added, "is a kind of inversion of the game of stereotypes.
"To be a rich and famous white man would today place you a priori at a disadvantage in a situation like this."