Wayward baboon 'captured' in New Jersey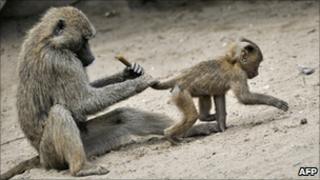 A baboon which has been roaming the streets and gardens of a town in the US state of New Jersey for three days is believed to have been captured.
The baboon reportedly escaped from a wildlife reserve at Six Flags Great Adventure near the town of Jackson.
But reserve officials say they will not know for sure if the animal caught is theirs until they see if it has a special microchip.
A dozen sightings were earlier reported by local residents.
Police had warned Jackson residents who see the animal to stay inside.
"It's moving quickly and we are trying to keep up with the animal," a police spokesman told local media earlier.
Golf course encounter
Reserve officials on Saturday confirmed that a baboon was found and tranquilised at a farm near Jackson.
The officials now want to assess the animal to see if it has a microchip that is embedded in all the baboons kept at the reserve.
Reserve spokeswoman Kristin Siebeneicher said earlier the park could not say for certain that the baboon had escaped from its Monkey Jungle because its 150 animals were not regularly counted.
But she said they were "probably certain" it was one of theirs.
A search team consisting of a veterinarian, a safari manager and security officials had seen the baboon dashing across a golf course on Friday afternoon but were unable to tranquilise it, Ms Siebeneicher told the Asbury Park Press.
"He ran into the woods,'' she told the newspaper.
Baboons are not normally aggressive and tend to stay away from humans, she said.
"Eventually they just want to return to their group."