Somali terror suspect held offshore appears in US court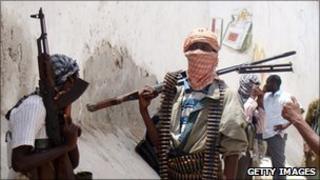 A Somali man has appeared in a civilian court in New York, charged with assisting al-Qaeda and militants from Somalia's al-Shabab group.
It has emerged that Ahmed Abdulkadir Warsame was held on a US warship offshore for two months following his capture in the Gulf of Aden.
Officials say Mr Warsame was not read his legal rights while in detention.
Mr Warsame, who has pleaded not guilty, is the first foreign terrorism suspect to be flown to the US for trial.
Suspects were previously flown to Guantanamo Bay in Cuba, but President Barack Obama has promised to close down the controversial detention facility.
The BBC's Tom Burridge in Washington says the case is a sign of how the Obama administration intends to deal with such suspects post-Guantanamo.
'Double' interrogation
Mr Warsame was detained on 19 April in the waters between Somalia and Yemen, prosecutors say.
He was transferred to a US Navy ship where he was interrogated by intelligence officials "on an all but a daily basis", the Washington Post newspaper cited court documents as saying.
He was accused of providing support to the Yemen-based militant group al-Qaeda in the Arabian Peninsula (AQAP) and also to al-Shabab militants.
The interrogation sessions were "very, very productive", officials told reporters - Mr Warsame gave up what was described as important evidence about the relationship between the two militant groups.
One senior official told the Washington Post that Mr Warsame had been questioned at sea because interrogators "believed that moving him to another facility would interrupt the process and risk ending the intelligence flow".
Officials said he was questioned in line with the Geneva Convention but was not read his Miranda rights.
These are the rights which, under US law, must be read to all suspects to inform them of their right to remain silent, to have access to a lawyer and that anything they say can be used in court.
After two months, interrogations of Mr Warsame were halted for a few days. The FBI then questioned him from scratch in way that could be used in a civilian court.
Court papers say Mr Warsame waived his right to remain silent. He was flown to the US on Monday night.
Congress criticism
Mr Warsame has pleaded not guilty to nine charges of providing support to terror groups. If convicted, he faces life in prison.
President Obama has pledged to close both Guantanamo and the CIA's network of secret prisons abroad and to use civilian courts to prosecute terror suspects.
Our correspondent says that having so far failed to shut down Guantanamo, Mr Obama is unlikely to want to increase its prison population by sending Mr Warsame there.
President Obama's Guantanamo plans have met with stiff opposition in Congress and the decision to move Mr Warsame to the US mainland has sparked further criticism.
The chairman of the Armed Services Committee, Republican Representative Howard P McKeon, said the transfer "directly contradicts Congressional intent and the will of the American people" and that it was "unacceptable" that Congress was only informed after Mr Warsame had been moved.
Senator Susan Collins, the senior Republican on the Homeland Security Committee, said a foreign national captured overseas by the military "should be tried in a military commission, not a federal civilian court in New York or anywhere else in our country".
Officials told reporters on Tuesday that there were no other detainees being held on US ships offshore.