US 'gangster' Bulger pleads not guilty to 19 murders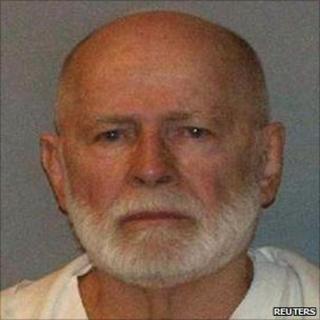 Alleged gang boss James "Whitey" Bulger has pleaded not guilty to a string of charges, including 19 murders, at a court in Boston.
Mr Bulger is said to have terrorised the city as head of the Winter Hill Gang in the 1980s.
Aside from murder, the 32-count indictment ranged from extortion and money-laundering to gun-running.
Mr Bulger was the inspiration for gangster played by Jack Nicholson in the film The Departed.
Facing relatives of his alleged victims, Mr Bulger, 81, said "not guilty" in a measured voice several times.
The hearing at the US District Court in Boston took less than 30 minutes.
FBI informer
Mr Bulger was on the run for 16 years, and on the FBI's 'Ten Most Wanted' list until his capture last month in Santa Monica, California.
He had been living under an assumed name with his long-time girlfriend, Catherine Greig, 60, who was arrested alongside him.
He originally fled Boston after being tipped off about a separate indictment, which has since been dismissed.
After he fled, it emerged he had been a long-time FBI informant, betraying rivals in exchange for protection.
At the arraignment, he entered the courtroom in shackles, dressed in an orange prison jumpsuit, and nodded to his brothers, William and John, who were seated in the front row.
Earlier Mr Bulger's lawyer, J.W Carney, had asked a judge to appoint a partner to help him with the defence in a case he said has a "host of complex legal issues".
Judge Marianne Bowler responded at the latest hearing that an appointed partner was not needed, because lawyers from the same firm were allowed to assist each other anyway.
Mr Bulger is accused of a string of murders dating from the 1970s until the 1990s.
His gruesome methods of avoiding forensic detection, in the days before DNA technology, are reputed to have included pulling out the teeth and cutting the finger tips off his dead victims.