Texas execution 'violated international law', UN says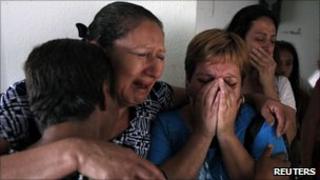 The US breached international law when the state of Texas executed a Mexican citizen convicted of raping and killing an American girl, the UN's senior human rights official has said.
Navi Pillay cited "particular legal concerns" whether Humberto Leal Garcia, 38, had access to consular officials and a fair trial.
US Secretary of State Hillary Clinton also said she was "disappointed" that Texas carried out the lethal injection.
Leal was executed late on Thursday.
He was not told he could have access to Mexican consular officials, in violation of the Vienna Convention.
"US compliance with Vienna convention terms is absolutely critical to ensuring our own consular access and our own ability to protect Americans detained abroad," State Department spokeswoman Victoria Nuland said.
Ms Nuland said not protecting "the rights of non-Americans in the United States" could lead to a lack of US access to American citizens overseas in the future.
"This is why the secretary is concerned," she added.
Ms Pillay, the UN High Commissioner for Human Rights, who visited Mexico this week, said Texas had placed "the US in breach of international law".
"What the state of Texas has done in this case is imputable in law to the US and engages the United States' international responsibility," she said.
Ms Pillay said Texas Governor Rick Perry, who rejected requests to intervene, and the Texas Board of Pardons and Paroles each failed to exercise consular and fair-trial obligations.
Those obligations fall under the Vienna Convention on Consular Relations and an International Covenant on Civil and Political Rights, she added.
She suggested the issue could reach the International Court of Justice and said "ramifications are likely to spread far beyond Texas".
Supreme Court rejection
Humberto Leal Garcia was sentenced to death for the 1994 rape and murder of 16-year-old Adria Sauceda, whose body was found unclothed and beaten, hours after she was seen leaving a party with Leal in San Antonio.
Leal's lawyers, the Mexican government and foreign diplomats sought a stay in the sentence.
The Obama administration had also wanted the US Supreme Court to grant a stay.
That would have allowed Congress to consider legislation covering foreign nationals who were not given proper consular access before being tried for crimes that carry the death penalty.
But the court rejected the request by the narrowest of margins, 5-4, a little more than an hour before Leal was put to death.
The Mexican government said prior to the execution that the nation regarded it as a violation of international law.