US man dies in 'Russian roulette' incident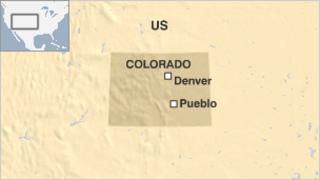 A man in the US state of Colorado has died after shooting himself in the head during a game of Russian roulette, police said.
Anthony Martin, 21, and other men were drinking and playing with a gun before the incident, Pueblo Police Sgt Eric Bravo told the Pueblo Chieftain.
Mr Martin died at the scene early on Sunday.
Investigators believe he did not know the gun was loaded, Sgt Bravo said. No arrests were made.
"Apparently [Martin] and a group of guys were playing with this gun throughout the night," Sgt Bravo said, the Pueblo Chieftain newspaper reported.
"They saw this young man playing Russian roulette and it went off and killed him."
Investigators concluded Mr Martin had acted alone and the gun was legally registered to one of the men at the party, Sgt Bravo said.