Jaycee Dugard: Memoir of captivity hits bestseller list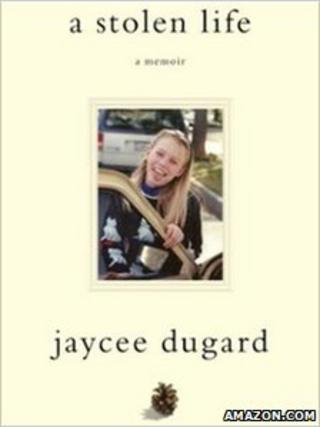 US kidnap victim Jaycee Dugard has described her 18 years in captivity in a memoir, which moved to the top of the Amazon bestseller list on the first day of its release.
In the book, A Stolen Life, Ms Dugard describes her loneliness and dependence on kidnappers Nancy and Phillip Garrido, who abducted her aged 11.
The book also details times when Ms Dugard, now 31, was raped by Garrido.
He is serving 431 years in prison for 14 counts of kidnap and sexual assualt.
Ms Dugard was abducted from near her home in South Lake Tahoe in 1991 as she walked to a school bus stop.
She was kept with her two daughters, now 13 and 16, in the backyard of the Garrido home in Antioch, California, in a compound of tents and sheds.
'Physical abuse'
In her memoir, Ms Dugard recounts the grisly benchmarks of her time in captivity on the Garrido property.
She describes her life as a prisoner in detail, including the day she was seized by her tormentors and the day she went into labour with the first of two children conceived at the compound.
"I would live in my own world," Ms Dugard says in her book.
"Physical abuse was all I knew," she adds, referring to sexual assaults by Phillip Garrido, who would take methamphetamines to prolong his ability to rape the girl.
Ms Dugard writes that Garrido tied her up and played out his sexual fantasies with her, while she was held in near-solitary confinement.
When the sexual encounters were over, Phillip Garrido would often beg for forgiveness, Ms Dugard says.
"With time I grew used to all kinds of things," she writes of her imprisonment.
A Stolen Life was listed as the top seller on the website Amazon.com on Tuesday, the first day of its release.
Ms Dugard's first television interview, which she conducted with ABC News' news Diane Sawyer, premiered on Sunday.
Tearful and reflective, she spoke about the pain she felt giving birth to her captor's child at 14 years of age.
"She came out and then I saw her. She was beautiful. I felt like I wasn't alone anymore. I had somebody who was mine," she said.
Ms Dugard said there was "a switch" she had to turn off to survive her imprisonment.
The ABC interview was the most-watched summertime current affairs programme since 2004, the Nielsen Company reported.
Ms Dugard was freed in 2009 after police officers at the University of California at Berkeley saw Phillip Garrido on the campus with her and her children and became suspicious.
Police in California came under fire after Ms Dugard's discovery because Phillip Garrido had a previous conviction for rape, involving an abduction, and was on the sex offenders list.
He received 431 years in prison for Ms Dugard's abduction, while his wife was handed 36 years to life.
Ms Dugard has received a $20m (£12m) settlement from the state of California, which has acknowledged repeated mistakes in the monitoring of Phillip Garrido.