Can America's genius for invention endure?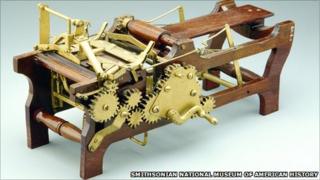 A record number of new inventions are expected to be processed by the US Patent and Trademark Office this year - in spite of concerns that funding for scientific research has slowed because of the recession.
More than half a million filings are anticipated in fields ranging from life sciences and personalised medicine to solar energy and mobile phone applications.
The surge of ideas coincides with a major exhibition in Washington DC that examines America's history of innovation and the belief that Americans themselves have a special genius for scientific discovery.
"The heritage we owe to the 19th Century is this inherent belief, this optimism in the ability of innovation to solve our problems," said David Kappos, director of the US Patent and Trademark Office, which helped produce the show.
"That spirit is alive - every bit as much as it was 200 years ago."
Labour-saving machines
The Great American Hall of Wonders at the Smithsonian American Art Museum in Washington DC features objects, paintings and drawings that explore how the study of nature and advances in technology and engineering helped shape the fledgling democracy.
"The US in its early years just didn't have many people," said Claire Perry, an independent curator who organised the exhibition.
"They knew that to have a thriving economy for an independent nation they needed to create labour-saving, efficient machines that would help to relieve the problem of not enough workers."
The 19th Century in America was a period of social upheaval and crisis.
On 4 July 1826, on the 50th anniversary of American independence, former Presidents Thomas Jefferson and John Adams died, and Americans feared that the nation would not survive the loss of those Founding Fathers.
But Americans realised that the great democratic experiment needed more than revolutionary zeal to ensure its success, deciding that innovation was the key.
'What hath God wrought?'
"These were people who felt a tremendous sense of responsibility for democracy and that it was their responsibility to have a wide range of knowledge," Ms Perry said.
"They attended botany lectures, read books about geology and mechanical improvements, and each person felt there was a niche for them to make a contribution."
The inventions that emerged were largely the work of individuals.
Many people had experimented with the electromagnetic telegraph, but the artist Samuel Morse was the first to come up with a device that was both economical and easy to use.
He built his prototype receiver from materials he found in his studio - a canvas stretcher, bits of wire and a ruler.
Congress was so impressed it funded a line between Washington DC and Baltimore. The first message broadcast on the new communications system: "What hath God wrought?"
But because of the enormous depth and breadth of knowledge that exists today, some believe the era of great inventors such as Morse may have ended.
Plunder of nature
In the 21st Century, new ideas and devices are more likely the product of teams of specialists funded by businesses and institutions, says T R Massey, a spokesman for Battelle, a charitable trust that generates $6.5bn (£4.1bn) in scientific research and development every year.
"Inventiveness now is more concerned with managing innovation and creating new applications for existing technologies," he says.
Battelle scientists have recently created an aviation paint that contains nano-tubes. Applied to the wings of an airplane and heated by wires attached to the engine, it prevents the potentially deadly build-up of ice that can cause planes to crash.
"We didn't invent nano-tubes, but we put the technology in the form of a solution thanks to teams of innovators," Mr Massey said.
"It's about translating technology into innovation."
While the early innovators pioneered the idea that technology could improve people's lives, not all their thinking was beneficial.
For example, many modern environmental problems can be traced to 19th Century attitudes towards nature, Ms Perry said.
"Something that took root in the US and was inherited from the early explorers was the notion that American nature was limitless and that no matter how much you took out, it could never be truly diminished," says Ms Perry.
"It was already evident in the 19th Century with the demise of the buffalo that this wasn't actually accurate. Yet we continue to go forward in some areas of our industry as if the health of our natural systems is something we don't need to be concerned about."
US dominance challenged
She points to the threat of climate change caused by greenhouse gases, soil pollution, diminished supplies of clean water and the demise of crop pollinators such as bees.
"This attitude of the limitlessness of nature in the US is a myth we need to dispel," she said.
But America's dominance of innovation and technology is being challenged by other countries.
Figures from Battelle show that China's spending on research and development is second only to the US because its unprecedented investment in education has created a highly skilled workforce.
The company warns that America's under-investment in Stem subjects (science, technology, engineering and mathematics) will spark an innovation crisis for the nation in the years to come.
President Obama has urged more spending but funding could be in jeopardy as Congress looks at ways to cut the budget deficit.
The US Patent and Trademark Office says half of the US patent filings this year will come from foreign inventors.
"The grand experiment of the 19th Century brought us to where we are today, and the US is still at the forefront of innovation," said Mr Massey. "But the rest of the world is catching up."