Florida teen Tyler Hadley 'killed parents then partied'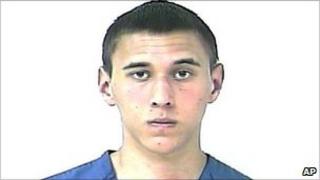 A teenager in the US state of Florida, accused of bludgeoning his parents to death with a hammer then throwing a party, has appeared in court.
Tyler Hadley, 17, allegedly killed Blake and Mary-Jo Hadley on Saturday before locking their bodies in a bedroom and inviting guests round.
He has been charged as an adult, but would be ineligible for the death penalty due to his age.
A motive for his alleged actions remains unclear.
The accused made his first court appearance via videolink from jail on Tuesday as police continued to gather evidence from the crime scene at the family home in the city of Port St Lucie.
'Horrific' injuries
Neighbours told US media the accused used to play basketball with his father in their driveway, and football with other children in the neighbourhood.
Tom Bakkedahl, a prosecutor who saw the parents' bodies, told the Associated Press news agency: "It's absolutely horrific. The injuries were just massive."
Mr Bakkedahl said although the accused has been charged with second-degree murder, a grand jury would probably opt for more serious charges.
Prosecutors say the accused posted on Facebook at about 1315 on Saturday that he would be hosting a party at his house that night.
Sometime afterwards it is alleged, Mr and Mrs Hadley were attacked in the home, their bodies were moved into a bedroom and the door was locked.
Dozens of guests showed up at the house on Saturday night for the party, and police were called in the early hours after a noise complaint from a neighbour.
When a patrol car passed the house at about 0130 on Sunday the party guests were just leaving, police said, and no further action was taken.
After receiving an anonymous tip about a possible murder, police returned later that morning to the house and the accused answered the front door.
Upon searching the property, police said they found the bodies of Mrs Hadley, 47, a school teacher, and Mr Hadley, 54, an electrical utility worker, in a bedroom.
Prosecutors said the trial was expected to start next month.