US existing home sales fall to seven-month low in June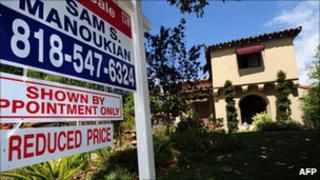 Sales of previously owned US homes fell 0.8% in June to a seven-month low with contract cancellations the main cause.
Contract cancellations jumped from 4% in May to a record 16% as the depressed US housing market continues.
The National Association of Realtors (NAR) said on Wednesday that sales were running at an annual rate of 4.77 million, the lowest since November.
The report overshadowed one on Tuesday that showed a jump in home construction to a six-month high in June.
The NAR cited a combination of factors that were keeping the market depressed, including the sluggish economy - especially the weak labour market - and the difficulty of getting credit.
Some buyers have cancelled purchases after valuations showed the homes were worth less than their initial bids.
"Buyers and sellers are increasingly running up against conservative appraisals, which often cause deals to fall through or be delayed," said Mark Vitner, senior economist at Wells Fargo Securities in Charlotte, North Carolina.
The US still has a high supply of properties for sale, including a high number of homes whose owners have been forced to sell amid the credit crunch and economic downturn.
Despite the high number of cancellations, average property prices rose in June by 0.8% to $184,300 (£114,290).