Abdulhakim Muhammad given life for Arkansas shootings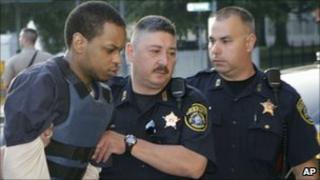 A man who confessed to shooting two soldiers outside a military recruiting facility in Arkansas has pleaded guilty and received a life sentence.
Abdulhakim Muhammad pleaded guilty to capital murder and attempted capital murder charges in the 2009 shooting.
He struck a plea deal with prosecutors on Monday to avoid the death penalty.
The 23-year-old shot and killed Army Private Williams Andrew Long and injured Pte Quiton Ezeagwula, who had recently completed basic training.
Pulaski County Judge Herbert Wright handed Muhammad a life sentence without parole for capital murder and additional charges.
Muhammad admitted that he drove to a military recruiting station in the Arkansas capital of Little Rock in 2009 and shot Long, 23, and Mr Ezeagwula, then 18, while they were smoking cigarettes outside the facility.
Both men had recently completed basic training and neither had been involved in any combat missions.
Muhammad fired an assault rifle at the pair, killing Long and wounding Ezeagwula.
He later told authorities he would have killed more soldiers if given the opportunity.
'Feel the bullet'
Muhammad, who changed his name from Carlos Bledsoe after converting to Islam during college, had previously pleaded guilty to capital murder during pre-trial proceedings. But Arkansas law prohibits defendants from a guilty plea in death penalty cases.
"I want you to feel the bullet in his head," said Sonja Ezeagwula, Pte Ezeagwula's mother, during the trial in Little Rock on Monday.
"I am so sorry for the choice that your son decided to make," she said, looking at Muhammad's family.
Muhammad's lawyers previously argued the Arkansas resident should not be found guilty due to a mental defect.
Muhammad was deported from Yemen, a country where Islamic extremists often seek sanctuary, after travelling there in 2007.
He has not been tied to any terror groups.