Canada's Jack Layton takes leave to fight cancer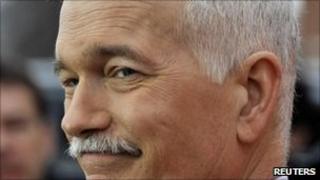 Canada's opposition leader Jack Layton is stepping down temporarily to focus on his battle against cancer.
The 61-year-old politician was diagnosed with prostate cancer in 2009 but announced on Monday that he had another cancer elsewhere.
Mr Layton said that he was determined to return to the political front line.
Analysts say his leadership of Canada's left-leaning New Democratic Party over the past eight years has made it a truly national force.
The party won official opposition status for the first time in its 50-year history earlier this year.
"On the advice of my doctors, I am going to focus on treatment and recovery. I will therefore be taking a temporary leave of absence as leader of the New Democratic Party of Canada," said Mr Layton.
Canada's Prime Minister Stephen Harper issued a statement wishing Mr Layton a speedy and successful recovery.
Analysts say Mr Layton is a resilient and effective politician who has continually challenged Stephen Harper's Conservative government, blaming it for shortfalls in the Canadian economy.