Uzbek Ulugbek Kodirov accused of Obama death threats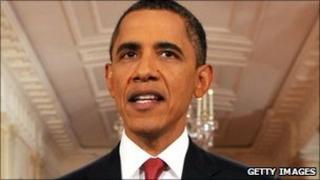 An Uzbek citizen has been indicted by a grand jury in the United States on charges of threatening to kill President Barack Obama.
Ulugbek Kodirov, 21, also faces charges of possessing an automatic weapon and a grenade, and of being in the US illegally.
Mr Kodirov was arrested on 13 July in a motel in Alabama after trying to buy a gun from an undercover agent.
His student visa was revoked in April 2010 after he failed to enrol to study.
He had been in the US since June 2009.
"Federal and local law enforcement effectively co-ordinated to investigate a threat, which resulted in the arrest of Kodirov, who was charged... with repeatedly threatening to kill the president of the United States and with possessing grenades and an M15 machine gun," the justice department said in a statement.
Prosecutors said Mr Kodirov had made threats against Mr Obama on four separate occasions in the week before his arrest - but gave no further details.
If convicted, Mr Kodirov faces a maximum five-year sentence for each count of threatening the president and 10 years for each weapons count, the statement said.