Walter Reed hospital closing its doors after century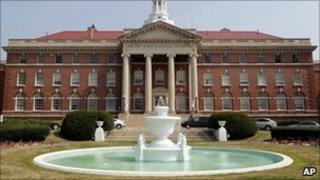 The US Army's flagship hospital in Washington, which has treated presidents and servicemen for more than a century, is closing.
The Walter Reed Army Medical Center will move to a new location in the state of Maryland in August.
A closing ceremony has been held at the facility, where hundreds of thousands of US troops have received treatment.
The shutting of Walter Reed, which opened in 1909, had been planned since 2005 as a cost-cutting measure.
The 80-bed hospital was the subject of a 2007 scandal about substandard living conditions for wounded troops in outpatient care, which ultimately led to improved care.
Patients and staff members celebrated the hospital's history at a ceremony on Wednesday on the parade grounds in front of the facility, which has accommodated troops who served in conflicts from World War I to the war in Afghanistan.
The Army will hand over the red-brick building, located six miles (10km) from the White House, to the state department and the District of Columbia on 15 September.
In 2005, a government commission voted to close the hospital and consolidate its operations with the National Naval Medical Center in Bethesda, Maryland, and a hospital in Fort Belvoir, Virginia, in order to save money.
A host of presidents and US commanders have died at the facility over the past century, including President Dwight D Eisenhower, Gen Jon J Pershing and Douglas MacArthur.
The new facility in Maryland will be called the Walter Reed National Military Medical Center.