US soldier Derrick Miller guilty of Afghanistan murder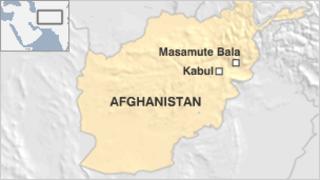 A US soldier who shot dead an Afghan civilian last year has been found guilty of premeditated murder.
A court martial in Fort Campbell, Kentucky, heard Sergeant Derrick Miller had threatened to kill the man whom he had accused of being a liar.
Sgt Miller said he had acted in self-defence when the man, Atta Mohammed, tried to grab Miller's weapon.
Miller was later sentenced to life in prison with the chance of parole, the AP news agency reports.
Miller stopped the man in Masamute Bala, north-eastern Afghanistan, for questioning when he walked through a defensive perimeter that Miller's unit had set up around a mortar unit, Miller's lawyer said.
Miller believed the man could be a threat to his unit, the court heard.
But an eyewitness said he heard Miller, a National Guardsman, threaten to kill the man if he did not tell the truth and then straddled the man, who was lying on his back, before shooting him in the head.