US film crowd clashes with police in Los Angeles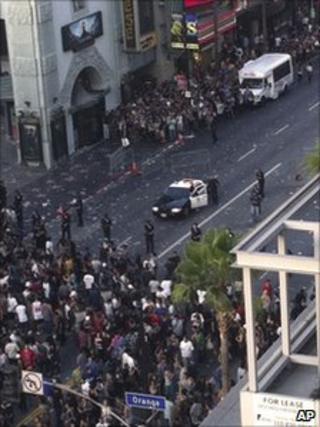 An unruly crowd threw bottles at riot police and started fires on Hollywood Boulevard in Los Angeles after a film premiere was cancelled.
The near-riot erupted at the screening of a documentary about an electronic music festival outside Grauman's Chinese Theatre on Wednesday evening.
Fire inspectors ruled the venue was too crowded, forcing people out into the street where a party had been arranged.
The famous boulevard was closed off while police stopped the disturbance.
About 2,000 people had turned up for an invitation-only screening of Electric Daisy Carnival Experience, when the Los Angeles Fire Department declared the theatre unsafe.
'Planking'
DJ Kaskade, an electronic music artist who features in the film, had sent out a Twitter message to his 90,000 followers saying there would be a block party.
Hundreds of people spilled out of the historic theatre after they were ordered to leave and joined a growing crowd outside the event.
Witnesses said troublemakers threw missiles at police and jumped on patrol cars, taunting officers, the Los Angeles Times newspaper reported.
Two people were arrested on suspicion of felony vandalism.
"There were people trampling all over the police cars, smashing the windows," Greg Magda, an employee of a nearby coffee shop, told AP news agency.
According to the LA Times, some people were reportedly spotted "planking" - an activity which involves lying down in an incongruous location, having a photo taken and then posting in on the internet.
Police reinforcements were sent and order was eventually restored after several hours.
The Electric Daisy Carnival, the music festival on which the documentary was based, has been controversial since a 15-year-old girl died last year from a drug overdose at the two-day event.