New Jersey Governor Chris Christie 'taken to hospital'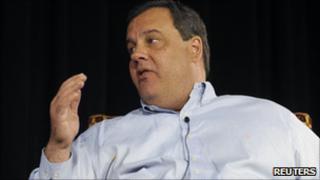 New Jersey Governor Chris Christie has been taken to hospital after having difficulty breathing, his spokesman has said.
The governor, a Republican known for his blunt speaking style, was expected to be released on Thursday evening, his spokesman Michael Drewniak said.
Another spokesman said doctors believed he had an asthma attack.
Mr Christie, 48, is a favourite among national Republicans, but has rejected requests he run for president.
He was elected in 2009, and has won praise from conservatives for scaling back the compensation of unionised public employees in New Jersey.
Mr Christie was taken to hospital by his police bodyguard at about 10:30 local time (14:30 GMT) after having trouble breathing, his spokeswoman said.
He used a "rescue inhaler" he carries at all times, Maria Comella told the Record newspaper of northern New Jersey.
But she maintained that he would recover and return to the public eye soon.
"He's in great spirits. He's looking forward to getting back to work," she said.