Heatwave sizzles states across southern US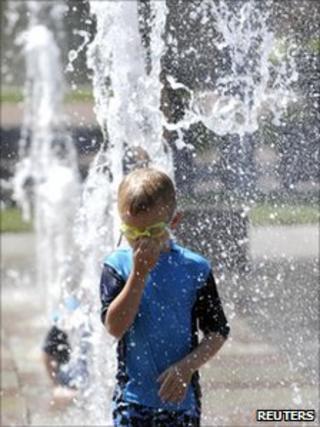 A heatwave is frying southern US states from California to North Carolina, as temperatures top 100F (38C) in parts Texas for the 38th consecutive day.
The National Weather Service has issued heat advisories for areas in 15 states across the south.
The blistering heat pushed electricity consumption in Texas to record highs in the state's hottest summer since 1980, according to the state grid operator.
Deaths related to the hot weather have been reported in Missouri and Texas.
Electricity usage in Texas has set records three days this week, and forecasters said temperatures are expected to stay above 100F for the rest of the week.
A "power emergency" was declared for a second straight day on Wednesday in the state as infrastructure was strained under the scalding heat.
Runner dies
"This is a very exceptional heatwave and exceptional load," Kent Saathoff of the Electric Reliability Council of Texas told the Reuters news agency.
"Sixty-eight thousand megawatts is about as much load as we can carry with our generation and maintain operating reserves," he added.
If temperatures hold on Thursday, the city of Dallas will have its 34th straight day over 100F, while the town of Tyler will experience its 38th.
A runner participating in a race, which is known as the Warrior Dash, died in Kansas City on Saturday due to the suffocating heat, a CNN affiliate reported.
Following an autopsy, Jeremiah Morris' family said the 28-year-old died after his core temperature had increased to 111F, which thinned his blood and damaged his organs.
"He ran so hard and so determinately that he took it to the ultimate end," Morris' mother told KMBC News.
Temperatures in Dallas were expected to reach a smouldering 109F and break the 60-year-old record of 107, the Dallas Morning News reported.
Dallas county officials urged residents to stay indoors after the region's heat-related deaths reached 13 on Wednesday.
Temperatures also hit the record high of 114F in Little Rock, Arkansas, on Wednesday, which was the hottest day on record for the city, local media said.
Excessive heat warnings and advisories remain in place for much of the southern US through Friday.