FAA shutdown: Congress passes funding bill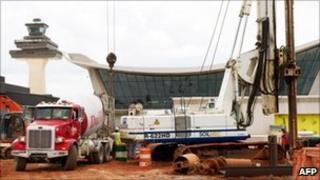 US Congress has approved stop-gap legislation ending a two-week partial shutdown of the Federal Aviation Administration (FAA).
A House bill, passed by the Senate on Friday, clears the way for thousands of employees to return to work.
The temporary deal contains $16.5m (£10m) of Republican-backed cuts in air service subsidies to rural communities.
The bill allows the FAA to continue operating until September, when Congress returns from summer recess.
President Barack Obama is expected to sign the bill into law later on Friday.
Using a procedures known as "unanimous consent" to approve the legislation, two senators were present on Friday to pass the measure proposed and approved by the House of Representatives to extend the FAA's operation authority.
"This agreement does not resolve the important differences that still remain," Mr Reid said on Thursday as he announced the accord.
"But I believe we should keep Americans working while Congress settles its differences and this agreement will do exactly that."
'Tremendous victory'
Republicans had insisted on the $16.5m in cuts to 13 rural communities in return for restoring the FAA to full operation.
The measures only keep the US air safety agency going until mid-September, setting the stage for a fresh political row when lawmakers return from their summer break, say analysts.
The FAA was forced into partial shutdown after its operating authority expired on 23 July.
The FAA debate was overshadowed earlier in the week by last-minute legislation passed in Congress to increase the US debt ceiling and avert a financial default.
The shutdown has been costing the federal government some $200m per week in passenger ticket taxes that could no longer be collected.
The BBC's Jane O'Brien says the political row that crippled the Federal Aviation Administration is seen by many Americans as a microcosm of the recent debt crisis.
Reacting to the bipartisan agreement, Transportation Secretary Ray LaHood, a Republican, said in a statement: "This is a tremendous victory for American workers everywhere."
The passed legislation comes two days after President Obama stepped up pressure on lawmakers to find a way to end what he called a "lose-lose-lose situation".
During the political scuffle, airline passengers have not been charged for ticket taxes, which average around 10% of each fare.
But many airlines raised their fares anyway by the amounts equivalent to the taxes that were no longer being collected, within hours of the shutdown taking effect last month.
Forty airport safety inspectors worked without compensation during the partial shutdown and were asked to pay for their own travel expenses.
The disputed air service subsidy programme costs the federal government about $200m per year, about the amount the government lost during the first week of the FAA partial shutdown.