Polygamist sect leader Warren Jeffs convicted in Texas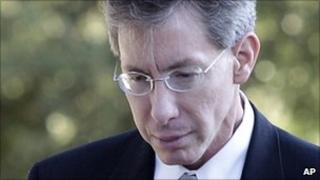 Polygamist sect leader Warren Jeffs has been convicted on child sexual assault charges by a jury in Texas.
The head of the Fundamentalist Church of Jesus Christ of Latter Day Saints made no reaction as the verdict was read. He faces up to life in prison.
He was found guilty of forcing two teenage girls into "spiritual marriage" and fathering a child with one of them when she was 15.
The charges followed a raid on a remote west Texas ranch in 2008.
A forensic analyst testified that Jeffs, 55, was an almost certain DNA match to the child of a 15-year-old mother.
Prosecutors also played audio recordings in which Jeffs was heard instructing young women on how to please him sexually.
Jeffs conducted his own defence and claimed he was a victim of religious persecution.
The jury in San Angelo, Texas, deliberated on a verdict for more than three hours. They then went immediately into sentencing proceedings.
When police raided the ranch they found women dressed in frontier-style dresses and underage girls who were clearly pregnant.
Authorities brought charges against several men from the group.
The 10,000-strong sect, which dominates the towns of Colorado City in Arizona, and Hildale, Utah, split from the mainstream Mormon church more than a century ago.