US woman 'died after thieves stole air-conditioner'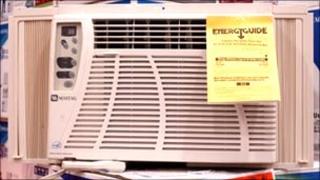 A US woman who reported that her air-conditioning unit had been stolen later died of heat exhaustion, officials in the state of Texas have confirmed.
Dolores Grissom, 79, died in her home in Oak Cliff two days after telling police her unit had been stolen.
The news comes as parts of Texas are experiencing their 39th consecutive day of temperatures above 100F (38C), with 13 deaths in Dallas County alone.
The National Weather Service has issued heat advisories for parts of 14 states.
Heat deaths
Dallas County Medical Examiner's Office reported this week that the death of Dolores Grissom, whose body was discovered on 16 July, was in fact heat-related.
Police in Oak Cliff said they had received increased reports of air-conditioning units being stolen during the past month, as Texas continues to smoulder under the blistering heatwave.
July was the hottest month ever recorded in Texas and the third driest in the state, according to the National Weather Service.
On Thursday the city of Dallas marked its 34th consecutive day of temperatures topping 100F, while Waco saw its 42nd straight day.
Electricity usage in the state has set records for three days this week, and forecasters said temperatures were expected to stay above 100F during the weekend.
Deaths related to the hot weather have also been reported in Missouri, Florida, and Georgia.
Other states, like Kansas, Oklahoma, Arkansas, Tennessee, and Louisiana, have also felt the full force of the hot weather, with temperatures reaching as high as 110F during the past week.
Little Rock in Arkansas hit an all-time record high of 114F on Wednesday and experienced temperatures well above 100F on Thursday.
"I can't remember any year with the magnitude and length of this heatwave," Jack Hayes, director of the National Weather Service, told MSNBC News.
"One thing that really causes this to stand out is the night time lows are much higher in this outbreak," he said, adding that it puts an "additional overnight strain on everything".
Cooling shelters have opened up across the south with tens of thousands experiencing power outages because of the heat.