Dominique Strauss-Kahn accuser files civil lawsuit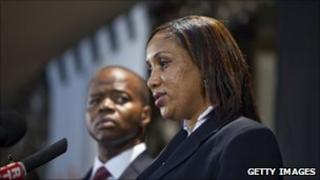 The hotel maid who has accused former IMF chief Dominique Strauss-Kahn of sexually assaulting her has filed a civil lawsuit against him.
In the suit, which was filed in New York and seeks unspecified damages, Nafissatou Diallo alleges she was left humiliated, violated and degraded.
Mr Strauss-Kahn has pleaded not guilty to sexual assault charges and has been freed on bail.
His lawyers said the suit had no merit and vowed to contest it.
In a court filing, lawyers for Ms Diallo said Mr Strauss-Kahn "intentionally, brutally and violently sexually assaulted Ms Diallo and in the process humiliated, degraded, violated and robbed Ms Diallo of her dignity as a woman."
The filing says Mr Strauss-Kahn bruised her vagina, injured her shoulder, tore her underwear and violently grabbed the back of her head in the alleged 14 May attack.
Before the allegation Mr Strauss-Kahn, 65 and married, was seen as a leading candidate for the French presidency in the country's 2012 election.
He is due back in court 23 August.
Prosecutors have said DNA evidence ties Mr Strauss-Kahn to the attack in a room at the Sofitel Hotel in New York.
Mr Strauss-Kahn's lawyers say any sexual encounter would have been consensual and have said Ms Diallo, originally from Guinea, had a financial motive to accuse Mr Strauss-Kahn of sexual assault.
They have seized on evidence that Ms Diallo lied in immigration proceedings in an effort to win asylum in the US, and a recording in which they say she discussed with a jailed friend how to profit financially from the incident.
"We have maintained from the beginning that the motivation of [Ms Diallo's lawyer Kenneth Thompson] and his client was to make money," Mr Strauss-Kahn's lawyers William Taylor and Benjamin Brafman said in a statement.
"The filing of this lawsuit ends any doubt on that question. The civil suit has no merit and Mr Strauss-Kahn will defend it vigorously."